HY-OPTIMA™ 1700 Series Intrinsically Safe In-line Hydrogen Process Analyzer
ATEX Intrinsically Safe In-line Hydrogen Process Analyzer
H2scan's HY-OPTIMA™ 1700 series in-line, real time hydrogen-specific process analyzers are designed for ease of use, interface flexibility and true process control. The HY-OPTIMA™ 1700 series is an ATEX certified Intrinsically Safe (IS) device that incorporates our patented solid-state sensor and is configured to operate in background gas streams with up to 95% relative humidity and temperatures up to 60ºC. The HY-OPTIMA™ 1700 series is ideal for process gas applications where real time continuous measurements of hydrogen can increase process plant efficiencies, improve diagnostics and enhance maintenance management translating into higher profitability.
Configuration Details
Verification Interval: 90 Days
Field Calibration: Yes
Operating Humidity: < 95% RH (non condensing)
Flow Rate: 0.1 to 10 slpm
Process Gas Temperature -20ºC to 60ºC
Operating Temperature: -20ºC to 40ºC
Storage Temperature: -40ºC to 50ºC
Output Signals

Analog: 4 to 20mA
Serial: RS422

Input Voltage

Power Barrier: 24 VDC nominal
Power Barrier Range: 20 VDC – 28 VDC
Intrinsically Safe Sensor: 10 VDC
Sensor Range: 5 VDC – 28 VDC

Input Power:10W
Dimensions: 10.3in (L) x 3.4in (W) x 1.4in (D)
Adapter Fitting: ½ in. MNPT, ½ in FNPT, -8 SAE
Background Gases: N2, CO2, Alkanes (CH4), Inert Gases (He, Ar)
Product Selections
The HY-OPTIMA™ 1700 Series product family includes sensor types that are designed for specific hydrogen ranges, corrosive gas tolerances and operation when no hydrogen is present. See the guide below for more details.
Certifications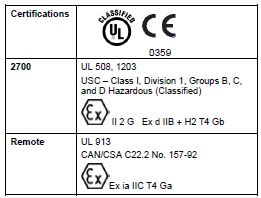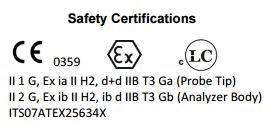 HY-OPTIMA™ is a registered Trademark of H2scan. Specifications subject to change without prior notice.