HY-OPTIMA™ 2700 Series Explosion Proof In-line Hydrogen Process Analyzer
The HY-OPTIMA™ 2700 Series uses a solid-state, non consumable sensor that is configured to operate in process gas streams. The H2scan thin film technology provides a direct hydrogen measurement that is not cross sensitive to other gases. The HY-OPTIMA™ 2700 Series is ideal for applications where real-time, hydrogen specific measurements can enhance process plant efficiencies, diagnostics and maintenance management.
Common applications include:
– Refinery: Reforming, cracking, recycle, tail gas, fuel gas, flare gas and other multi-component process streams
– Natural Gas: H2 supplement to hydrocarbon measurement for complete natural gas or biomethane analysis
– Industrial Gas Supply: Air separation, syngas, steam methane reforming, and electrolysis process streams
– Petrochemical: H2 measurement in polymer feeds and flare gas process streams
– Manufacturing: Metals annealing, semiconductor, oil hydrogenation and fertilizer manufacturing process streams
Configuration Details
Verification Interval: 90 days
Product Life Expectancy: 10 Years
Pressure Compensation: Yes
Operating Humidity: < 95% RH (non condensing)
Flow Rate: 0.1 to 10 slpm
Process Gas Temperature: -20°C to 60°C
Operarting Temperature-20°C to 55°C
Storage Temprate -30°C to 80°C
Output Signals

Analog: 4 to 20mA (or user specific mA)
Serial: RS232 or TS422
Relay Contacts²: 5A/240 VAC or 5A/30 VDC

Input Voltage: 90-240 VAC
Input Power: 15W
Dimensions: 7.5in (L) x 5.4in (W) x 5.7in (D)
Adapter Fitting: 3/4 in Union Tee Compression
1. ATEX versions are limited to 1.1 ATM max process gas pressure
2. Two programmable relays and one fault relay with normally open (N.O.) and normally closed (N.C.) contacts
Product Selections
Certifications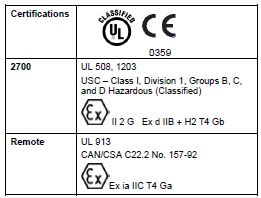 HY-OPTIMA™ is a registered Trademark of H2scan. Specifications subject to change without prior notice.